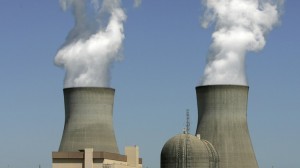 by Matt Kempner
8/6/17 ATLANTA: Our bumbling aspiration in Georgia to build more nuclear power is looking suspiciously like that wooden block game, Jenga.
You know, the one where you take turns pulling out a block at a time, hoping not to topple the teetering tower.
How many pieces can be pulled out before Georgia Power's nuclear expansion at Plant Vogtle metaphorically collapses and takes with it billions of dollars in consumer money?
The few remaining blocks left at the project's base look shaky to me. (Well, except maybe Georgia Power's eagerness to continue with a project the state ensures will be delightfully profitable for the power company even though Vogtle is billions of dollars over budget and years behind on completion.)
Small community power systems across the state may be the next blocks to be yanked out of the last nuclear plant still under construction in the U.S.
If you happen to notice what just happened across the border in South Carolina, you'll know what I'm talking about.
Read the whole article: Atlanta Journal-Constitution