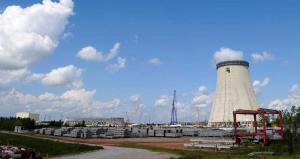 by Walter C. Jones
ATLANTA 1/23/16 — Georgia Power Company wants regulators to bless its share in more than $900 million in cost overruns incurred so far in building two nuclear reactors at the Plant Vogtle generating facility near Augusta.
The company denies its request amounts to approval of the overruns. At least one regulator said his agency can ignore the request until the reactors are generating electricity. And he estimates the impact of the request to be as high as $2.5 billion in added costs to electricity customers.
Company lawyers filed a formal request Thursday seeking approval by the Public Service Commission of the utility's contract with the new builders.
Georgia Power, which owns 45.7 percent of Vogtle, and the utilities that own the rest of the plant signed an agreement with Westinghouse and with Chicago Bridge & Iron's Stone & Webster division to design and build two reactors for $6.8 billion. Various problems led to delays and cost overruns, prompting the owners and the builders to sue each in other in 2013 over who would pay the added costs.
Read the whole article: Augusta Chronicle