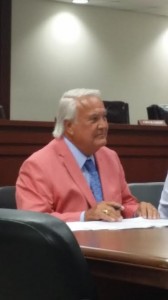 by Gloria Tatum
6/11/17 (APN) ATLANTA — Georgia Public Service Commissioner Lauren "Bubba" McDonald (District 4) filed a motion to give Georgia Power ratepayers a break by asking the company to suspend collecting the nuclear construction tax, or CWIP.
But it had as much chance as a snowball in hell of being honored by the PSC or Georgia Power.  The Commission voted to hold the motion and refer it to the Georgia Attorney General for an opinion, in a four to one vote on June 06, 2017.
"I move that the Commission request that the Company voluntarily agree that as of July 1, 2017, it will stop collecting any financing charges under the Nuclear Construction Cost Recovery (NCCR) tariff," McDonald's motion read.
"Effective July 1, 2017, the Company will utilize Allowance for Funds Used During Construction (AFUDC) accounting treatment on the Construction Work in Progress (CWIP) balance of all Unit 3 and 4 capital costs," the motion stated.
Read the whole article: Atlanta Progressive News