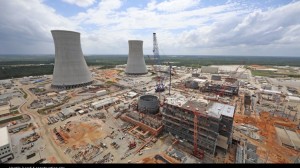 by J. Scott Truby
ATLANTA 3/8/18: Consumer group Georgia Watch filed a legal challenge to the December decision by the Georgia Public Service Commission to allow Georgia Power and partners to complete two unfinished nuclear reactors at Plant Vogtle in east Georgia.
In a petition filed in Fulton County Superior Court, Georgia Watch alleges the unanimous decision by the utilities regulator benefits shareholders of Georgia Power, a subsidiary of publicly traded Southern Company, over Georgia ratepayers.
The decision was finalized in January.
The challenge is at least the second filed against the PSC by consumer groups in recent weeks. A trio of advocacy groups challenged the PSC's decision on Georgia Power's new cost estimates, alleging commissioners violated state laws and the commission's own rules approving spending that would nearly double the estimated costs of the project.
Georgia Watch alleges commissioners violated the law by "[communicating] with Georgia Power behind closed doors in the days leading up to the final decision without notifying other parties or giving them an opportunity to respond to the substance of the communications."
"The Commission's decision puts nearly all of the higher cost burden and risks of further cost increases on the backs of Georgia consumers," Georgia Watch Executive Director Liz Coyle said in a news release. "Incredibly, Georgia Power will actually earn billions in extra profit while their customers foot the bill for the mismanaged project."
The law group of former Gov. Roy Barnes is representing Georgia Watch on a pro bono basis.
Read the whole article: Atlanta Journal & Constitution