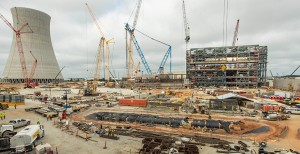 by Kristi Swartz
9/26/18 The future of the nation's lone nuclear construction project remained unclear last night as its utility partners continued to negotiate over how to handle its rising costs.
Expenses at Southern Co.'s Plant Vogtle expansion project have jumped $2.3 billion in just one year. Vogtle's budget is roughly double what it was a decade ago, but the reactors were at a crossroads Monday when one of the business partners said it would walk away unless the construction costs were capped.
That talks among the developers — Southern's Georgia Power Co., Oglethorpe Power Corp., the Municipal Electric Authority of Georgia (MEAG) and Dalton Utilities Inc. — have been extended until 5 p.m. today is a sign that they are trying to keep the reactors going. That is a far cry from yesterday, when Oglethorpe and its utility partners aired their disagreements — and anger — in lengthy public statements.
Read the whole article: E&E News