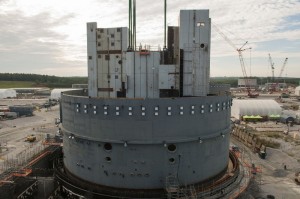 A 2.4-million-pound module that will house components in the first of two new nuclear reactors is moved into place at the V.C. Summer plant north of Columbia. The utility's financing method is drawing criticism.
by David Wren
Charleston, SC 8/11/15 —  State regulators should review the pay-as-you-go method being used to build a nuclear power plant near Jenkinsville to see if it really is saving money or simply letting South Carolina Electric & Gas pass costs it should absorb on to its customers, the head of the S.C. Small Business Chamber said Tuesday.
A spokesman for the utility, however, said the state already reviews the project's finances and proposed utility rate increases, all of which are available for public review.
Frank Knapp Jr., the chamber's CEO, said he's not convinced the current financing method — under a state law called the Base Load Review Act — is fair to consumers, including the business owners his group represents.
Read the whole article: Charleston Post & Courier