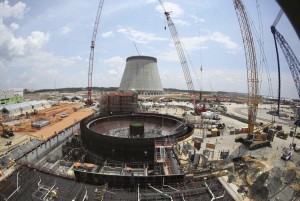 by Ross Williams
9/24/18 SANDY SPRINGS — The $27 billion Plant Vogtle, America's only new nuclear power plant under construction, has survived is latest challenge.
Two of the plant's owners, Municipal Electric Authority of Georgia, or MEAG, and Oglethorpe Power, voted to move forward with the plan Monday.
MEAG provides electricity to its 49-member communities, including Marietta and Acworth. Oglethorpe supplies electricity to 39 of Georgia's 41 electric membership corporations, including Cobb EMC, although Cobb EMC is not participating in the Plant Vogtle expansion. Oglethorpe did not respond to multiple requests asking where, when and whether a vote would take place.
MEAG passed it unanimously around 3 p.m., and Oglethorpe followed at about 8 p.m. with what it called a "conditional vote in support." The utility said it will support continuing with the project if certain conditions are met, including an agreement to freeze the budget at its current place.
Read the whole article: Marietta Daily Journal