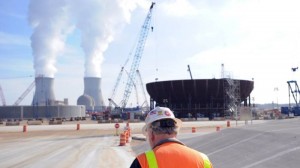 by Ed Crooks
9/13/18 NEW YORK — A legal battle has flared up over the only new nuclear power plant under construction in the US, raising questions about the $27bn project's future.
Companies involved in the plan to build two reactors in Georgia have sued each other over a contract to buy electricity from the plant, as communities argue over who should bear the rising cost of the project. The outcome of the dispute will have implications for the nuclear industry in the US and internationally.
The two Westinghouse AP1000 reactors being built at the Vogtle power plant in Georgia have been hit by delays and cost overruns, but the companies leading the project are still pressing ahead with construction.
However, the city of Jacksonville in Florida and its electric utility JEA, which had agreed to buy power from the plant for 20 years, are attempting to escape from that contract. In a filing at a Florida court on Wednesday, the city argued that the 2008 agreement to buy power from the plant was in breach of state law and therefore unenforceable.
In their filing, Jacksonville and JEA said the contract "purports to saddle JEA and its ratepayers with an unlimited obligation to fund the exorbitant and ever-ballooning cost of constructing units of a nuclear power plant that JEA does not own."
Read the whole article: Financial Times