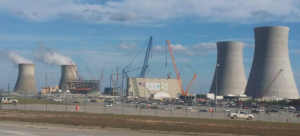 by Gloria Tatum
9/8/18 (APN) ATLANTA — As the cost projections for the nuclear reactors 3 and 4 at Plant Vogtle continue to skyrocket, co-owner support for Plant Vogtle is on increasingly shaky ground, especially as credit rating agencies are talking downgrades based upon the instability of cost projections around finishing the reactors.
Georgia Power's announcement last month of an unexpected increase of 2.3 billion dollars more to complete Vogtle 3 and 4 has triggered confusion and the requirement for a vote by each of the co-owners on whether to continue participating in the project by late September 2018.
Georgia Power cannot assure that the price will not continue to go up or that the service date will not continue to be kicked down the road by ongoing delays.
This has spooked both Wall Street and some minority co-owners of Vogtle 3 and 4.
Moody's Investors Services has already issued a downgrade to Georgia Power's rating, saying the 2.3 billion dollar increase comes just eight months after the Georgia Public Service Commission signed off on the previous round of increased cost estimates.
Co-owners' exposure to cost increases has no actual end in sight, and this has consequences for investors.  Additional downgrades for co-owners are expected.
Now, Jacksonville Electric Authority (JEA) wants out of its agreement with Municipal Electric Authority of Georgia (MEAG) to buy power from Plant Vogtle 3 & 4 for the next twenty years and to share in the construction cost.  MEAG is one of the co-owners of Vogtle 3 and 4, owning 22.7 percent of the project.
In addition, Oglethorpe Power–a thirty percent co-owner–will have to nearly exhaust its 490 million dollar contingency fund, according to a company press release.
Read the whole article: Atlanta Progressive News