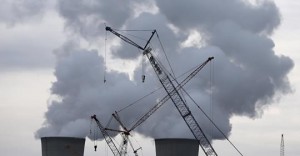 by Nate Monroe
9/12/18 JACKSONVILLE: Jacksonville's electric utility and City Hall filed a lawsuit Tuesday seeking to void a controversial decade-old agreement obligating local ratepayers to help build and eventually buy power from two planned nuclear reactors in Georgia, a significant escalation in a fight over the future of the only active nuclear power project in the United States.
The Municipal Electric Authority of Georgia, one of the co-owners of the Plant Vogtle nuclear expansion project, also filed a federal lawsuit against JEA on Tuesday accusing the Jacksonville electric agency of having "a clear intent to breach its contract, abandon its obligations" and to "undermine and disrupt" the future of the project.
The dueling lawsuits cap off weeks of tension between the two agencies.
JEA has sought for months to get out of the 2008 purchase-power agreement it signed with the authority, the subject of acidic letters the two agencies have traded in recent weeks. Since the project began — a run of years during which the federal government supported nuclear power, and the industry's prospects seemed much brighter — the Vogtle expansion has seen a number of cost overruns and delays. JEA's obligations have ballooned with it.
JEA's financial obligations likely top $2.25 billion over the 20-year life of the agreement.
Read the whole article: Florida Times-Union