by Matt Kempner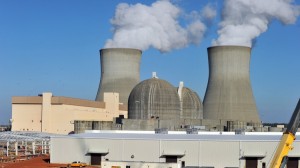 11/3/17 ATLANTA: Don't read beyond this sentence if you don't pay a power bill in Georgia and never will.
Otherwise, get your wallet out.
There's a bit of show biz about to start Monday in hearings with elected state regulators. When it's over, it's likely to end up costing you and your Georgia descendents for decades to come.
That's because the only giant, deeply delayed, steeply over-budget nuclear power construction project still underway in the U.S. may well get another wink and pat on the back from Georgia regulators.
So far, Georgia politicians have failed to enact significant consumer protections that would limit a government-enforced monopoly (Georgia Power) from sidestepping the vast majority of risk while raking in extra (extra!) profits on the overruns for the company's Plant Vogtle expansion.
Elected members of the Georgia Public Service Commission start the first of four days of hearings Monday. It's Round One in what on paper could be a momentous decision after years of complex construction plagued by unfinished designs, incomplete scheduling, flawed parts and workmanship, insufficient oversight early on and too much worker downtime.
The PSC accepted the setbacks, missteps and busted budget in the past. But now PSC members are faced with their first go/no-go vote since originally approving the project in 2009. That's because the bankruptcy of Westinghouse, the project's main contractor, throws significantly more risk and cost into the mix.
Read the whole article: Atlanta Journal-Constitution