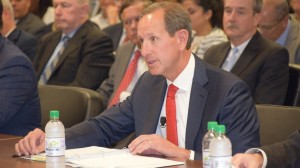 by Matt Kempner
11/8/17 ATLANTA: If you made a giant mess that your neighbors were going to end up paying for, would you take a moment to apologize to them? Perhaps at least mumble something about "regret"?
Georgia Power's CEO did not utter such words the other day. Not even close.
CEO Paul Bowers made a rare personal appearance at a hearing before the Georgia Public Service Commission this week. He was there to explain why state regulators should continue the Plant Vogtle nuclear expansion project and force the company's customers — his neighbors — to take on way more risk and billions in additional costs because the project has careened off the rails.
"We understand that this is a complex and difficult decision," Bowers told the elected body.
The project was supposed to be producing electricity before now. Instead, after years of busted assurances and forecasts, Georgia Power's latest estimate is for completion in another five years.
Maybe. Because now it's also warning that there's a whole lot that still could go wrong to screw up its latest projection. So, don't hold Georgia Power accountable to that timetable.
Bowers didn't hint at any remorse during what apparently was his only appearance in a Georgia PSC hearing since getting Georgia Power's top job almost seven years ago. As Sir Elton sang: "Sorry seems to be the hardest word."
Read the whole article: Atlanta Journal-Constitution