By Mary Landers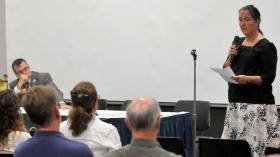 SAVANNAH 10/17/13 – "Unconscionable" and "theft" were two of the words used Thursday evening to describe a residential rate hike and fee on solar installations proposed by Georgia Power.
More than 50 people attended a meeting sponsored by Georgia Watch and the Sierra Club at the Coastal Georgia Center to discuss the issues.
The rate hike, proposed in July, would have average residential customers paying almost $8 more a month. Some homeowners with solar panels would pay a new monthly fee of about $22 by Georgia Power's estimations.
Read the whole article: Connect Savannah