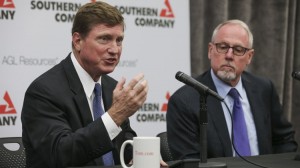 by Matt Kempner
ATLANTA 3/29/17: Sometimes, even rah-rah cheerleading isn't enough to make a bad situation look good.
That's a shame for Georgia Power, because the CEO of its parent has tried to make the company's nuclear misadventure look like a puffy cloud on a pretty spring day.
Four years ago, when the project to expand nuclear power at Plant Vogtle was already more than a year and a half behind schedule, Southern Co. chief executive Tom Fanning declared that work was moving along in "spectacular fashion." The company said no further delays were expected on the complex .
Last year, with delays and costs having grown dramatically, Fanning said work on the two new nuclear units was going "beautifully."
Read the whole story: Atlanta Journal-Constitution