by Paul H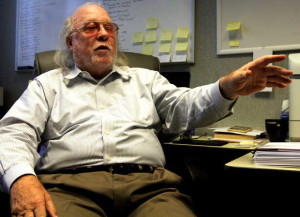 ampton
3/1/15 HATTIESBURG, Miss. — Thomas A. Blanton is a theologian. And a student of Jean Lafitte.
An oilman. And an environmentalist.
A rock 'n' roll impresario twice over. And a protest singer with an unreleased album.
A fan of Mark Twain. And Uncle Remus.
A community organizer who can direct the distribution of thousands of campaign cards a day. And an unsuccessful candidate for the Public Service Commission.
A strict constitutional constructionist. And a Democrat.
A cancer survivor. And a professional hell-raiser.
He resists labeling. You could say he is eclectic. Even his friends allow he's a bit eccentric.
With white hair flowing down his back, an eye lost to cancer and a beard gone wild, he's the image of a pirate. But he says the only thing he's interested in raiding is the corporate boardrooms of those interested in pocketing a fortune at the expense of the little guy, or the planet.
He's well known in south Mississippi as the man who took on Mississippi Power and the state's Republican political machine over the baseload act and subsequent rate increases for electricity meant to pay for the Kemper County power plant.
Read the whole article: The Sun-Herald