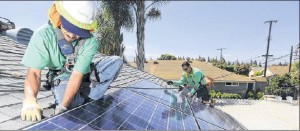 by Matt Kempner
ATLANTA 1/13/15 — New legislation backed by power companies and solar advocates promises to make it easier and more affordable for Georgia homeowners and small businesses to put solar power systems on their rooftops.
At least that's the hope with a bill unveiled Tuesday before a state house subcommittee. State Rep. Mike Dudgeon, R-Johns Creek, said he would submit the bill Wednesday. It clarifies how homeowners can get outside financing of small solar installations.
Solar advocates say one key to home systems is to make it easier to finance installation and equipment, which can cost $15,000 or more.
Read the whole article: Atlanta Journal-Constitution