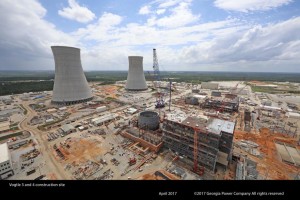 by Matt Kempner and Anastaciah Ondieki
9/24/18 ATLANTA – Dreams of a U.S. nuclear energy renaissance have faded around the country, but a lone project slated to be paid for by Georgia consumers and businesses continues to survive, despite a troubled history and massive cost overruns.
On Monday, the nuclear power expansion of Plant Vogtle cleared another hurdle. Sort of.
But this time a crucial partner in the project wants to cap future cost increases and shift more risk onto the parent of Georgia Power, the largest utility in the state.
The owners of the Vogtle project — representing most of the utilities in Georgia — voted to continue the project despite an additional $2.3 billion in cost overruns. The latest inflation in Vogtle's pricetag triggered the vote, the second by the owners in a year.
But Oglethorpe Power, which represents electric membership corporations in metro Atlanta and around the state, said its board's approval depends on concessions by lead owner Georgia Power's parent, Southern Company.
Oglethorpe said it wants a cap on costs and for Southern to cover any costs above that, rather than sharing them with its co-owners.
Read the whole article: Atlanta Journal-Constitution