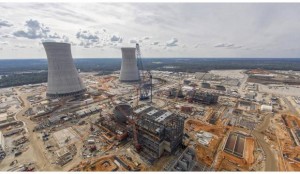 by Tom Corwin
10/11/17 AUGUSTA: A conservative Georgia group is calling out Georgia Power on the cost overruns on two nuclear reactors at Plant Vogtle and wants to repeal a state law that allows the company to pass along those costs to ratepayers while construction is underway.
The call puts the Atlanta Tea Party Patriots on the side of some more liberal groups opposing the project but President Debbie Dooley said some issues appeal to all sides. The group is also vowing to make it an issue in next year's Public Service Commission elections.
The Atlanta Tea Party opposed Senate Bill 31 in 2009 that allowed Georgia Power to recoup the nuclear expansion costs at Vogtle and has supported efforts since to repeal it. But with the failure of a somewhat similar project in South Carolina at the V.C. Summer nuclear site, and the ensuing fallout over its ongoing burden on those ratepayers, Dooley said she believes there is renewed momentum to make the change in Georgia.
"I think there is a bigger demand for it this time because it is in the news," she said. In the past, "I think people wanted to give Georgia Power the benefit of the doubt. But there's no benefit of the doubt now."
Read the whole article: Augusta Chronicle