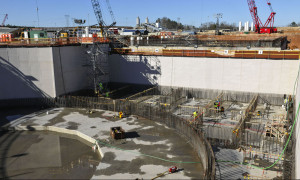 by Ray Lightner
GRIFFIN 2/8/14 — The Municipal Electric Authority of Georgia (MEAG) is asking the Nuclear Regulatory Commission to allow it to create up to three wholly owned subsidiaries to help MEAG fund the expansion of the Vogtle nuclear power plant.
The expansion, adding reactors 3 and 4, has already been approved, with MEAG as one of the licensed co-owners, along with Southern Nuclear Operating Company, Georgia Power Company, Oglethorpe Power Corporation and the City of Dalton. MEAG owns 22.7 percent, Oglethorp Power owns 30 percent, City of Dalton owns 1.6 percent and Georgia Power owns the rest.
Southern Nuclear Operating Company operates Vogtle and is making the request, which would allow MEAG to create the three subsidiaries, dividing up MEAG's 22.7 percent share of the electricity generated by the two new reactors.
Read the whole article: Griffin Daily News