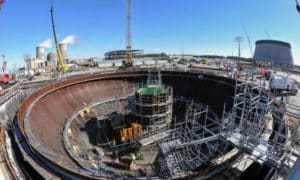 by Lyle Harris
10/16/17 ATLANTA Georgia Power is likely to get another shot-in-the-arm after announcing plans to complete construction on those ill-fated nuclear reactors at Plant Vogtle near Waynesboro.
A more appropriate response to this epic boondoggle, of course, would be a swift kick in the pants. But don't count on it.
The Georgia Public Service Commission (PSC) has scheduled hearings on November 6 to discuss the troubled project, Along with the Southern Company (Georgia Power's corporate parent) and the smaller utilities that are partners on the Plant Vogtle expansion, there's little reason to worry about some silly old hearings. While the PSC is ostensibly charged with balancing the interests of the utility with those of its customers, the scales are reliably tipped in Georgia Power's favor.
The planned reactors at Plant Vogtle were supposed to be up and running by now but they're only about one-third complete. A series of major snafus and setbacks (including the bankruptcy of Westinghouse Electric which designed and was building the reactors) has increased chances that Georgia households will be picking up more of the tab.
Read the whole article: Saporta Report