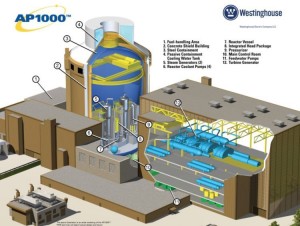 by Tom Baxter
11/13/17 ATLANTA: From a design point of view, the nuclear projects at Plant Vogtle and the V.C. Summer site in South Carolina were identical. They were to be the first in a new generation of U.S. nuclear reactors, the Westinghouse AP1000s, cheaper, easier to build and safer than their predecessors.
After years of costly delays, the fate of the two projects diverged last summer, when the South Carolina utilities funding the Summer project pulled the plug on it, just days after the Georgia Public Service gave the go-ahead for continuing construction at Vogtle, despite the bankruptcy of Westinghouse.
The impact of the Westinghouse debacle has been felt more sharply in South Carolina, where a substantially smaller population of ratepayers is shouldering the enormous costs. One result of this has been a very productive competition between Columbia's The State and Charleston's The Post and Courier, both of which have been aggressive in reporting on the regulatory failures that accompanied the engineering blunders on the road to ruin for the Summer project.
Last week, as the Georgia Public Service Commission was holding four days of hearings on the future of the Vogtle project, portable devices were buzzing with the fruits of that effort.
Read the whole article: Saporta Report