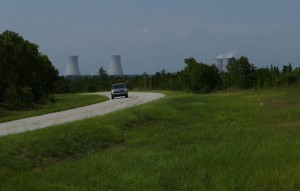 by Stanley Dunlap
2/18/2022   Further setbacks at the snakebit Plant Vogtle nuclear expansion are reportedly expected to result in delays lasting up to six months while the operator added a $920 million charge at the end of last year.
Thomas Fanning, president and CEO of Southern Co., said during Thursday's earnings call that the parent company of Georgia Power took past repeated disruptions and challenges into account when it revised this timeline for completing the plant's two final units, with the latest mishap caused by incomplete and missing inspection records that resulted in a backlog of more than 10,000 records.
The completion of the third and fourth reactors at Plant Vogtle, chiefly owned by Southern and its subsidiary Georgia Power, is now projected to be delayed three-to-six months, with the third unit coming on line in March 2023 and the final reactor ready by the end of the year, according to Southern's report.
"Over the last year a number of challenges including shortcomings, and construction and documentation quality have continued to emerge, adding to project timelines and costs," Fanning said. "In recognition of the possibility for new challenges to emerge, we further risk adjusted our current forecast by establishing a range of three to six additional months for each unit, and we've reserved for the maximum amount."
Read the whole article: Georgia Recorder