by Kristi Swartz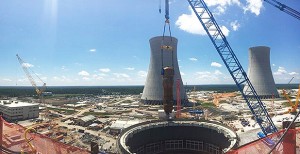 ATLANTA 2/27/18 — A bill that would end the controversial financing law that's being used to expand Plant Vogtle passed the Georgia Senate yesterday.
The measure would apply only to future nuclear reactors and would not affect Georgia Power Co.'s Plant Vogtle expansion project. Still, while the proposal (S.B. 355) does no immediate financial harm to Georgia Power, a unit of energy giant Southern Co., it carries major political significance.
Georgia Power is a political heavyweight at the state Capitol. The utility had roughly six dozen lobbyists help move the Georgia Nuclear Energy Financing Act through the Legislature in 2009, allowing the electric company to bill customers for Vogtle's reactors as they were being built.
At the time, Georgia Power and nuclear supporters argued that doing so would pay down interest costs and save customers money over time. It would also send a signal to Wall Street that the Peach State stood behind Georgia Power building the nation's first nuclear project from scratch in nearly 30 years.
Vogtle is now the lone nuclear project under construction in the U.S. It is years behind schedule and billions above its forecast budget. The financing costs have now roughly doubled, causing many to question whether the Legislature needed to review the 2009 law.
"If you had asked me at the beginning of the session if any legislation would move in this area, I'd say, 'Absolutely not,'" said state Sen. Josh McKoon, a Republican from Columbus. "It's one thing to stir up a hornet's nest. It's another to constructively engage Georgia Power, the other players, to come up with something that moves public policy in a direction that [the bill's sponsor] and I think it should be moving in."
Read the whole article: E&E News