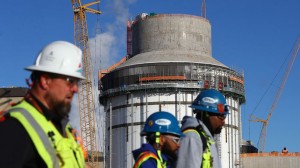 By Tamar Hallerman
2/17/2022    Southern Company, the electric utility overseeing the beleaguered Plant Vogtle nuclear expansion near Augusta, said Thursday that the project is being delayed once again as costs continue to climb.
That raises the possibility the company's roughly 2.6 million Georgia Power customers, already on the hook for billions of dollars, will pay even more to finance the first big nuclear project in the U.S. in decades. The project is already several years late and billions over budget.
Atlanta-based Southern, the parent of Georgia Power, disclosed Thursday a $920 million financial charge in the fourth quarter of 2021 related to Vogtle. It also pushed back the startup dates for its two new nuclear units in Georgia by three to six months.
The plant's new Unit 3 is now slated to come online between December 2022 and March 2023. Unit 4 is scheduled to be operational between September 2023 and December 2023.
Southern partially attributed the latest delay to incomplete and missing inspection records, which are required for the plant to load nuclear fuel. It said it reduced the backlog by more than 30% in recent weeks as it works its way through tens of thousands of records for materials and equipment installed in the first of its two new units.
Read the whole article: Atlanta Journal-Constitution