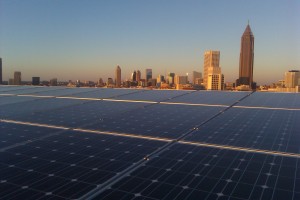 by Gloria Tatum
(APN) ATLANTA 11/18/13 — The Georgia Public Service Commission (PSC) has finished months of public and expert testimony on Georgia Power's request for a 482 million dollar rate increase and an increase in the company's guaranteed profit from 11.15 percent to 11.50 percent.
Georgia Power is also asking for a surcharge of $5.56 per kilowatt on self-generated power from solar panels, plus a solar tariff, on customers who install solar panels after January 01, 2014.
The PSC is expected to consider the requests at its December 17, 2013, administrative session.
If approved, the 482 million dollar rate hike would add nearly eight dollars per month to the average residential bill.  The solar tax is another 22 dollars for residential customer and commercial solar systems who add solar after January 01.
According to Georgia Watch, this is on top of Georgia Power increases since 2003 that have added over 44 dollars per month to household electric bills.
Read the whole article: Atlanta Progressive News