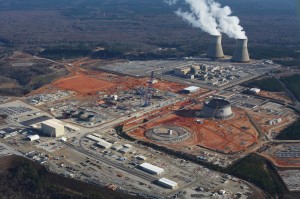 by Ray Henry
ATLANTA (AP) 1/25/14 — Badly outnumbered regulators in Georgia want to hire two more employees to keep tabs on the $14 billion project to build a first-of-its-kind nuclear plant.
Southern Co. subsidiary Georgia Power says its share of the project to build Plant Vogtle (VOH'-gohl) is projected to go hundreds of millions of dollars over budget. Its 2.4 million customers will pay for the company's building costs unless regulators force the utility to take losses on questionable spending.
Now the chairman of the Public Service Commission, Chuck Eaton, is asking state lawmakers for roughly $180,000 to fund two more employees to carefully track utility spending and construction efforts. The information those monitors gather will be crucial if regulators ultimately want to block Georgia Power from billing its customers for at least some of the project's increasing cost.
Regulators are at a disadvantage when contending with Georgia Power, a monopoly that owns a 46 percent stake in the nuclear plant.
Read the whole article: SFGate